A Comparison: Glass Bongs vs Silicone Bongs
Water bongs are one of the most popular and common smoking ways for stoners. Unlike a glass pipe, a water bong has a chamber for loading water that provides smoother hits. So water bongs perfect for those stoners who want a smoother smoking experience. Whether you're smoking alone at home or share your favorite dry herbs with your friends at the party, water bongs always do the trick. When it comes to choosing a water bong, what kind of material bong is your first choice? 
There are two most common materials of bongs on the market. Glass bongs are the most popular among smokers and most bongs are made of glass. Although silicone bongs are a less popular choice than glass bongs, they also are hot smoking tools for some stoners.
These two different material bongs have their own particular advantages, no matter a glass bong or a silicone bong is worth the investment. Choosing what kind of material bong depends on your needs. In order to facilitate the difference between you, we listed a comparison of glass bongs and silicone bongs.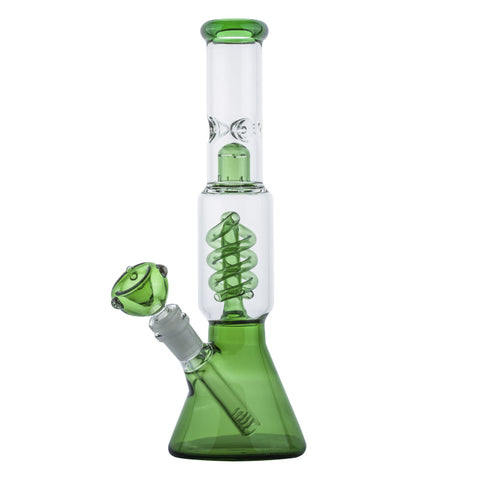 When it comes to purchasing a new bong, a glass bong definitely is an undisputed king. In fact, most smoking devices are made from glass, such as glass bongs and glass pipes. Why glass bongs are so popular among smokers?
First of all, glass bongs are relatively plentiful and functional. When you inhale, the smoke travels through the glass chamber with water, it'll cool down and smooth before into your mouth. So glass bongs with percolators provide higher satisfaction for its incredibly smoother hits.
Secondly, a glass bong won't affect the flavor of your favorite dry herbs and bring any undesirable chemicals to your smoke. Meanwhile, when it comes to clean a bong, glass is pretty easy to clean and dry.
Lastly, most glass bongs in the market feature various amazing looking. Getting a new glass bong with an exquisite design is a great investment. You not only get a functional smoking device but also have an awesome piece of art.
There is one thing you need to know before buying a glass bong, glass bongs have a variety of different types. If you're a traveling stoner, a mini glass bong is perfect for you. A percolator bong is suitable for those smokers who want a powerful and smoother hit. On Puffing Bird, we have a lot of different types and shapes high-quality borosilicate glass bongs for you to choose from.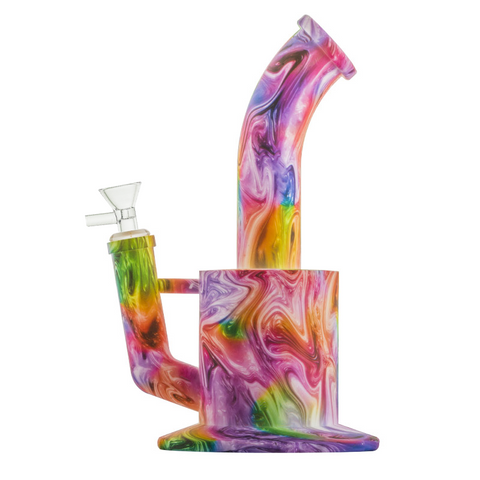 Silicone bongs are made from food-grade and unbreakable silicone, so you don't need to worry it break at all, this also the most advanced feature of silicone bongs. Silicone is an extremely resilient and durable material, so silicone bongs will not shatter due to impact or improper handling. Some silicone even can be folded in a small space for easy transport, perfect for traveling or carrying around.
Another advantage of silicone bongs is that smoke silicone bongs can be detachable for easy cleaning and carrying. It makes the silicone bongs are much easier to clean and maintain, especially if you have stubborn spots that difficult to clean. On Puffing Bird, we specially selected some both quality and functionality silicone bongs, check out our specific collection of silicone bongs.   
Recommended Glass/Silicone Bongs
No matter what kind of bongs you prefer, you can find a wide range of bongs at our online head shop. Here are some recommended bongs for your reference.
The bong is made from high-quality borosilicate glass and the level of details on this bong is just amazing, if you look closely you'll find very lifelike veins on the body and wrinkled skins on the bottom(disturbingly lifelike), yet this bong is very functional, featuring a removable downstem(the glass bowl is fixed with the downstem) and a medium carb hole on the left side of the bong, the hole which you put the downstem in has a blue rubber ring to make a tight seal so when you put water in it won't spill. 
Accessories: 1 X Fixed Glass Bowl Downstem
Height: 7.9"/20cm Base Width: 2"/5cm
Penis Themed Bong
Novelty Bong/Water Pipe
High-Quality Borosilicate Glass
Heady Glass
Clear Glass
Removable Downstem
45° Angle Joint
Medium Size Carb Hole
420 Gifts
The pink dog and the rest of the bong are made from high-quality borosilicate glass, the built quality is quite impressive, the dog is hollow on the inside(like me) and the only perc in this bong is an inline diffuser located on the bottom. 
Despite the silly look, this bong is actually very functional, the base can hold a fair amount of water for filtration and sits very still on any surface, the hits are super smooth, the drag is very comfortable and the slightly bent neck can prevent bong water from spilling in your mouth. 
The bong comes with a 14mm male bowl with handle for buds and since it's got only one percolator you can use a 14mm quartz banger on it converting it into a wax rig! 
Standard Accessory: 1x 14mm Female Glass Bowl Piece For Dry Herbs.
Height: 8"/21cm, Base Width: 3.6"/9cm
Weight: 240g
Thickness: 5mm
Heady Animal Theme Perc
Doggie Theme Bong
Inline Percolator
Extra Thick Glass Bong.
Heady Glass Bong.
Bent Neck
Flared Mouthpiece
90° Angle
14mm Female Joint.
Dual Purpose Water Pipe (For Dry Herb/Concentrates)
This water bong features not one or two, but THREE percolators in total! The turbine percolator is located on the topper half and the honeycomb percolator is located on the bottom half, the spiral percolator is separated from the pyramid body in an individual chamber, if you look closely you'll find a small hole on the side of the chamber, that's the hole for you to fill water in it for filtration.
The separated chamber design makes this glass bong a recycler, the smoke(or vapor if you're using it as a dab rig) alongside with water will travel from the bottom through the honeycomb and the turbine percolators then into the separated chamber and to the mouthpiece, the water will travel back through the spiral percolator so it'll be chilled at the same time. A pretty unique design to provide just the right amount of drag and filtration when you inhale! 
Accessories: 1x 14mm Female Glass Dab Nail, 1x Glass Dome.
Height: 8.6" / 22cm
Weight: 282g
Thickness: 3mm 
90° Joint
Honeycomb Percolator
Turbine Percolator
Spiral Ice Percolator
Extra Thick Glass
Heady Glass
Male Joint
Flared Mouthpiece
Dual Purpose Glass Bong/Dab Rig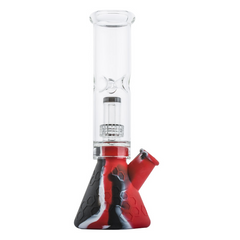 If you like a massive amount of bubbles, this hybrid matrix perc bong is perfect for you! Bubbles can distribute the mix of air and smoke evenly so a smooth and chilled hit is guaranteed! The glass tube also features ice catcher to cool down the smoke.
This hybrid silicone water pipe stands 10.6" tall and features an embossed honeycomb pattern on its silicone beaker parts. 
The silicone base and glass tube can be taken apart. That's easy to clean the two part after smoking! It features the 14mm female joint and comes with a 14mm male bowl piece.
Check out our new silicone bongs and order this top quality silicone gun bong today!
Come with a 14mm Male Glass Bowl Piece
Beaker Bong
Silicone Bong
Hybrid Bong
Straight Neck
Food Grade Silicone
Height: 10.6" / 27 CM
Weight: 463g
Matric Percolator
This definitely is one of the coolest and greatest silicone bongs you can find on the market.
This beaker base water pipe is made from food-grade silicone, making it unbreakable and heat-resistant. The straight neck of this silicone bong is detachable and collapsible, which is able to expand from 10.63" to 20.87", perfect for cooling down your smoke before it hit your mouth.
The silicone bong comes with a 3.54" glass downstem for dry herbs. The joint size of this awesome bong is 14mm female which is compatible with a 14mm male bong bowl.
---